The fight for clean water will be a global megatrend
We are Econet, a Finnish expert in water and environmental engineering. We design and create solutions for clean water and the environment. We operate in Finland and several export markets, such as Russia.
Bedrock tanks for clean drinking water, wastewater treatment plants for large cities, wastewater engineering deep in Siberia – we tackle our clients' challenges with the best expertise and experience in the industry. Sticking to agreed schedules, ensuring high engineering quality and providing unfailing delivery logistics guarantee our success, even in projects thousands of kilometres away from our headquarters.
There is global demand for Finnish cleantech competence. Environmental problems are getting worse in developing countries, and stricter environmental protection requirements for businesses and public entities are becoming commonplace. By exporting our expertise, we can provide jobs for Finns and offer help to countries suffering from water supply issues. A functional and efficient water supply is everyone's basic right and the foundation of democratic societies.
Certified quality
Our quality management system is certified according to ISO 9001:2015, internationally known and appreciated quality management standard. The certification has been conducted by Bureau Veritas.
Following an international standard for implementing a corporate quality management system gives Econet a concrete instrument to effectively and permanently increase client satisfaction.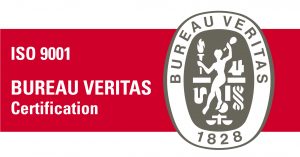 Highest creditworthiness
The Bisnode AAA certification verifies reliability, credibility and minimum risk in the cooperation with Econet. Only 3.0% of all Finnish companies have reached this achievement.